Eventide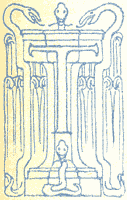 Toward sunset one evening I wandered along the esplanade on my way to the Court of Ages. As I neared the north entrance to the Court I gazed over the beautiful Bay of San Francisco, and beheld a most spectacular picture. There before me in the soft distance stood Mt. Tamalpais, in all the splendour of its majesty, bathed in shadows, for the light was now behind it; above the clearly defined line of the mountain was a perfect conflagration of color.
The sun was sinking in a mass of topaz, rubies and amethysts, which the wind changed incessantly as it altered the form of the clouds above. The wondrous picture was enlarged and intensified - for the sunset had the bay for a mirror.
"All the light, all the rays, all the fire, all the phosphorescence rippled over the water in sparks, spangles, prisms, and trails of flame, shining, scintillating, flaming, luminous, the whole bay one vast dazzling splendour." The vision was like a glorious painting, combining "Caracci's strength, Correggio's softer line, Paulo's free course, Titian's warmth divine;" it left one breathless, throbbingly ecstatic, intoxicated!
But there is something finer than intoxication, something more real, more lasting and satisfying, and I turned at last into the Court of Ages - where I knew I should find it.
There the soothing restful tones of rose, lilac and violet, had turned the place into an ideal retreat of Peace - in which one's overwrought nerves were soon caressed into proper harmony.
Also, I had chanced upon the loveliest scene inside the Court. Most of the enclosure was already wrapt in light mysterious shadows, and, in the deeper shadows of the square pilasters, the cooing doves were pruning and prinking for the night, their glistening breasts glimmering here and there in a stray ray of the sun's last light; there were soft bird-calls, rustlings and happy twitterings before they flew to the cornices, there to sleep until morning, their little heads under their wings; about me was the sweet odor of orange blossoms and fragrant hyacinths; the outside voices hushed to a distant hum; from far away came strains of music softly; the light faded slowly, tenderly, from the western half of the exquisite tower, finally, the eventide had come and the dim mysterious gloaming found me sitting there alone, in this old temple cloister "in tune with the infinite," and at one with my fellowmen.
"There is one kind of wisdom which we learn from the world, and another kind which can be acquired in solitude only.
In crowded places we study those around us; but in the retirement of the cloister we learn to know ourselves."